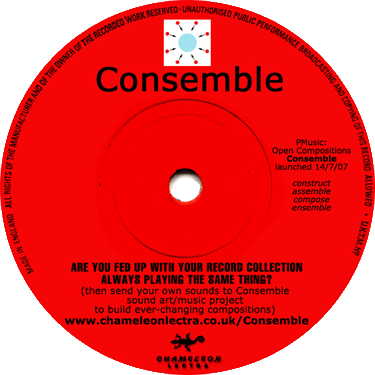 •

Consemble is an original, web-based Open Compositions venture launched by Chameleon Lectra on the 14th July 2007. It is ongoing.



•

A Consemble is a collection of sounds, assembled by a group of people, which are then played using random methods to create an everchanging, digital listening experience.



•

YOU are invited to listen to the current Open Consemble Consemble: K and then email your own sounds - the ones you think ought to be included - to build this web-based, indeterminate PMusic composition.



˜


• Every contributor will be credited and the work will be available, for free, from this website. Anyone may take part - amateurs, professional composers, sound artists, non-musicians etc. - there is no age limit.

• From 2007 there have been an annual series of project licences (Consemble: A, Consemble: F etc.) - each with its own brief and specifications to guide you; the intention however is to be broad, welcoming and inclusive. Consemble can be understood as a sound art or music project.

• Every person's contribution is equally important - each sound adds to, and changes the direction of, the Consemble. All participants get an online credit and link to website where appropriate.

Visit the Consemble licence pages for details of submission.

please email your contribution(s) and any questions to:
consemble@blueyonder.co.uk.

Please bear in mind that this work will be available for free to all, including children (so no pornographic sounds etc.) and no copyrighted material—just your own music or sounds.





Completed Consembles (closed for contribution - open for listening):
Theme: 'Snapshot'
Son Type: found sounds
Son number: 41
Listen only

Theme: 'Dusk'
Son Type: around evening
Son number: 58
Listen only
Theme: 'the idea of voice'
Son Type: vox
Son number: 60
Listen only
Theme: 'warm surroundings'
Son Type: wild card
Son number: 22
Listen only
14th July 2007 -
31st August 2008

14th July 2007 -
31st August 2008
14th July 2007 -
31st August 2008
14th July 2007 -
31st August 2008
Theme: 'soul electric'
Son Type: electric soul
Son number: 58
Listen only
Theme: 'washed up
on your island'
Son Type: sonic flotsam
Son number: 65
Listen only
Theme: 'the idea of voice'
Son Type: vox
Son number: 72
Listen only
Theme: 'skywriting'
Son Type: aerial
Son number: 52
Listen only
1st Feb 2009 -
31st August 2009

1st Feb 2009 -
31st August 2009
1st Sept 2008 -
31st August 2009
1st Feb 2009 -
31st August 2009
Invited Consembles (by invitation - open for listening):
• Open Consemble:
Theme: 'chair with wings'
Son Type: real to imaginary


Current Son number: 12



By invitation only
Theme: 'Orient'
Son Type: encompassing


Current Son number: 11



By invitation only
Theme: 'pond life'
Son Type: small bios


Current Son number: 50



By invitation only
Theme: 'café of
chance encounters'
Son Type: by fortune


Current Son number: 16



Open to ALL

21st May 2010 -
31st May 2022
* live - deadline extended

21st May 2010 -
31st May 2022
* live - deadline extended
21st May 2010 -
31st May 2022


21st May 2010 -
31st May 2022
* live - deadline extended